November 9, 2015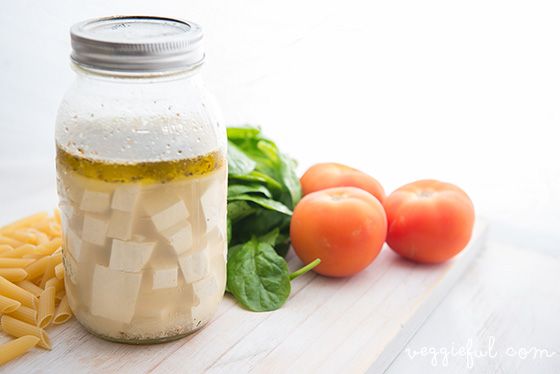 Yum yum yum is all I can say about this amazing recipe. I had been wanting to create a vegan feta recipe for a while and am so glad that it ended up tasting so crazily delicious! Now, if you can be patient, letting it marinate for 2 days will give you the best results. The 2 days of marinating will allow the tofu to really soak up the yumminess and to change consistency from a spongy tofu to a relatively crumbly and soft feta style of tofu. Jerome and I absolutely love it! We have used it in salads and in pastas so far. Let me know of any other ways that you use it as I am so excited to keep this in the fridge. Hope you love it as much as we do!
375g extra-firm tofu, pressed and drained and cut into small cubes
1/2 cup apple cider vinegar
Add all ingredients to a large jar and stir/shake until combined.

Make sure the liquid completely covers the tofu.

Refrigerate for 1 to 2 days until needed. I find that 2 days is the best!

Enjoy!
I know that it seems excessive to have to refrigerate this for 1 to 2 days... however, after 2 days, the tofu becomes crumbly and really soaks up the delicious flavours. You will LOVE it!

To make the tofu soak up the goodness even more, try crumbling the tofu in the jar instead of cutting into cubes.
October 9, 2015
I am currently 34 weeks pregnant and am constantly craving sweets. I was feeling way too guilty about wanting naughty food all the time so I decided that i really needed to create a quick and easy recipe that nipped my chocolate craving in the bud but was also nutritious. This is the perfect instant dessert. It is:
moussey... tick!
sweet... tick!
delicious
... tick!
quick
... tick!
easy
... tick!
healthy!
... tick!
filling... tick!
I believe it is perfectly acceptable for breakfast, lunch, dinner or dessert for everyone... not just the pregnant ladies! Mia who is 21 months at the moment absolutely loves this... she calls chocolate "cock-cock" which can sometimes attract strange looks in public. I know her "cock-cock" face... it is a grumpy look, normally when she has just woken up and is craving something deliciously cocoa-ey and sweet. This is the perfect little treat for her to have on occasion. I created this recipe about 10 days ago and have already made it for myself more than five times! I think that is saying something. So, please have a try as I know it will become your go-to guilt-free chocolatey treat. Enjoy!
serves 2
1 cup vegan milk of choice
4 tablespoons chia seeds
2 tablespoons cocoa
1 tablespoon peanut butter
8 dates
dash vanilla extract
Add all ingredients to a blender and blend until completely smooth without lumps.

Eat immediately or serve chilled!

Enjoy without feeling guilty as this is one clean delicious dessert!
October 1, 2015
Website Questions:
Why did you start Veggieful?
We started Veggieful to help other vegans with easy and delicious recipes. We were still at uni at the time studying Accounting and experimenting with vegan cooking. We were constantly asked for recipes as everyone LOVED what we were making. We decided to start a blog to share these recipes with close friends and family to begin with. We never knew what the future would hold! Now, Veggieful's mission is to motivate others to cook delicious vegan food in order to reduce support for the meat, dairy and animal product industries. We just want others to see how amazing vegan cooking really is and remove the stereotype of a vegan as being a stinky, hairy hippy who only wears potato sacks... ha ha!
When did you start Veggieful?
Veggieful started on April 3rd 2012 and has become such a huge part of our lives. We never knew that it would grow to help and support a large community of vegans, vegetarians and recipe-lovers. We are grateful for each and every one of you.
Will you be bringing out a hardcopy cookbook?
Yes! We do have plans to publish a cookbook one day in the future. For now, we have a few other focuses which are keeping us preoccupied... including our vegan babies!
Can I share your recipe on my website/blog/page?
Yes of course! Just make sure to clearly credit us and link back to the original recipe.
Can I use your photos on my website/blog/page?
Yes of course! Just make sure to clearly credit us and link back to the original recipe.
How do I subscribe for Veggieful updates?
Enter your email on this page here and follow the prompts to confirm your subscription. Enjoy!
Technical Questions f0r Jerome:
What camera, lenses and equipment does Jerome use for food photography?
Nikon d810, Nikon 24-70mm f2.8 lens and flash.
Do you have any food photography tips?
I have three tips for beginner food photographers:
Start out with a prime lens

Try and use natural window lighting when available.

E

xpensive equipment does not necessarily mean good shots, good shots come from passion and persistence.
Did you study photography?
I didn't study photography... I learnt everything through trial and error and using YouTube tutorials! It was through learning about food photography that motivated us to start our wedding photography business Bird and Boy Photography. It is amazing how things work out!
Who designs the graphics and cute cartoons? Where do you get the inspiration from?
I design and draw the cartoons and graphics using Adobe Illustrator. We were always inspired by cute Asian cartoons and wanted to bring this in as our theme for Veggieful. We started with simple little bean drawings and went from there!
Recipe Questions:
What is "insert ingredient here"?
Even though I love receiving comments and emails, it would really help us if you could please google simple questions like these. Plus, you won't have to wait for my reply :)
Can I substitute "insert ingredient here" for "insert ingredient here"?
If it is something logical like replacing the apple in an apple pie for pear, then yes I believe it would work. However, if it is something strange like replacing the flour in a biscuit recipe with goji berries, then I would doubt that it would work hehe. If I haven't listed it on the recipe, I probably haven't tried it. However, have a go and see! You never know :)
Which food processor do you use?
One of our most asked questions. We just use a little handheld Sunbeam herb chopper. It is quite old and the model number has worn off due to my extreme obsession with making date balls.
I changed some of the ingredients in your recipe and it didn't work out. Why is that?
Our recipes are tried and tested. We cannot guarantee that they will still work out once an ingredient has been changed... it completely changes the chemistry of the dish. Have a go at the original recipe and hopefully you will love it!
What are your favourite recipes on Veggieful?
My favourite dessert recipe would definitely be our birthday sponge cake. I could eat this for EVERY meal! Yum yum yum! My favourite healthier dessert would be our chocolate peanut butter cheesecake... it is seriously amazing. My favourite savoury recipe would probably be our sausage rolls... a great recipe for dinner, parties, picnics etc...
Personal Questions:
Do you work/have a job?
Yes, Jerome and I are also wedding photographers for our business Bird and Boy Photography. We do one or two weddings per week and are at home for the rest.
What is your diet like? Do you eat everything on Veggieful?
We keep a balanced diet. We try to eat healthily most of the time but still have the occasional treat. We make our recipes now and then but are always trying and creating new dishes.
What is it like being a vegan parent?
I really believe it is no different to being a non-vegan parent. I haven't had any issues so far and am never really asked any questions. Our babies have never been sick and are always happy, healthy and energetic so I suppose their appearance and behaviour says it all!
Were you vegan during both of your pregnancies? Did you take supplements?
I have been vegan since 2010 and nothing changed when I was pregnant. I didn't take supplements during my pregnancy but did what I could to eat as healthily as possible and tried to consume a wide range of different fruits, vegetables, grains, nuts and seeds. My test results were always amazing and I was never deficient in anything.
Vegan Questions:
What are the first steps to becoming vegan?
Research research research! Learn about the benefits of being vegan and the reasons behind why you want to make the change. Then, start making the changes in the kitchen. Find some delicious vegan recipes and do your first vegan grocery shop. Read more on our vegan 1o1 page here.
I am a vegetarian and want to become vegan but am scared that I won't be able to do it. Do you have any tips?
Make a checklist of any changes you will need to make and all of the exciting new recipes, meals and food items you will be adding to your household. Take it one step at a time and have fun with it! Read more on our vegan 101 page here.
photo credit: Brandon

Jerome and I are so excited to post this recipe today. Who would have thought that we would ever bring you a recipe for vegan meringue? It seems almost strangely impossible to make a vegan version of a mainly egg-white based recipe. However, our friend Brandon, the owner and head chef at Loveletter Cakeshop in New York, has created this simple recipe for you all to try! Why should we trust him? Because he creates the most amazing line of vegan cakes and is becoming extremely popular due to his creativity and delicious creations. His restaurant was actually the first in America to add aquafaba meringue to his standard menu. How amazing! I urge you to have a go of his recipe below and try it in your own vegan macarons, meringues, mousses etc... Enjoy!
From Brandon:
"In case you haven't heard, there's a newly-discovered ingredient that's taking the vegan world by storm. Better yet, it's probably sitting in your pantry right now. And to top it off, you've probably thrown it out more times than you can count (but I promise you won't ever again after this recipe).
Vegans of the world, I'd like to introduce you to Aquafaba. It's a combination of the Latin words Aqua (water) and Faba (bean), and it's made from the soaking water of a can of beans—most commonly, chickpeas. Not the chickpeas themselves, but the water you cook them in. We all owe a huge Thank You to the wonderful mind that thought of trying this in the first place, but when you whip up this magical ingredient, it behaves almost exactly the way egg whites behave. They foam like egg whites, they stiffen like egg whites when you add sugar, and it carries a pleasing, neutral flavor like egg whites, allowing you to use Aquafaba in a variety of different recipes calling for all kinds of different flavors.
There are generally two ways to prepare aquafaba: you can make your own by cooking dry chickpeas, or you can buy cans of chickpeas. Both methods work equally well, but I prefer the canned variety for its simplicity. (If you opt for buying your Aquafaba canned, make sure to get the no salt added varieties, or at least reduced salt.)
Vegans worldwide have made meringues, macarons, mousses, cakes, and ice cream using this humble chickpea water. At

Loveletter Cakeshop

, we use Aquafaba to make a luscious, fluffy, and stable Swiss meringue buttercream that will fool even the pickiest non-vegans. Seriously, you can't tell the difference.
So, let's get to it. This recipe is for a simple vegan meringue. You can adjust the sugar content depending on what you will use the meringue for, but these particular ratios are for a meringue intended for buttercream."
340 grams of Aquafaba (the liquid from approximately 2 cans of chickpeas)
160 grams of granulated sugar
1/2 tsp of cream of tartar (optional)
Sift your sugar and cream of tartar and set aside.

Boil your Aquafaba on medium-high until it has reduced to 95 grams, or slightly more than 1/4 of its original weight. (This will make a rather stiff meringue. Reduce less if you prefer it less stiff.)

While still boiling, add your sugar and cream of tartar to your Aquafaba and stir until completely dissolved.

Once you've dissolved your dry ingredients, pour your mixture into a the bowl of a stand mixer (or any other mixing bowl) and using your whip attachment, whip for 4-6 minutes, or until stiff peaks have formed.

Enjoy the vegan meringuey goodness and impress your friends!
The cream of tartar is optional but recommended. This will help stiffen your meringue and help prevent it from falling apart.

Again, this makes a rather sweet meringue, intended for use in buttercream. Your sugar proportions will differ depending on how you intend to use your meringue. Experiment away!